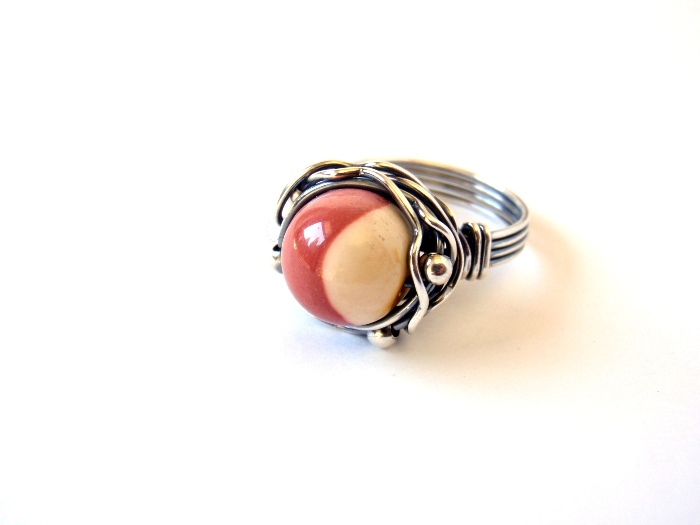 Item# RJS03424
Price AU $40.00
~ Mookaite Orbit Ring ~
Handcrafted Antiqued Sterling Silver Orbit Ring with a natural Mookaite 12mm round stone bead. A truly one-of-a-kind ring - the stone is dusky-pink to burgundy on one side, and creamy white with just the tiniest hint of mustard on the other.
US Size : 8-1/2
Australian/UK Size : R
I have been making wire-wrapped rings for about a decade now, and over the years have tweaked them with some strategically placed twists and turns, and added little silver balls, to make the design entirely my own! I call them my Orbit Rings - I absolutely adore them, and I hope you love them too!
[ Presented in an eco-friendly gift box - perfect to treat yourself or someone special ]
~ ~ ~ ~ ~ ~ ~ ~ ~ ~ ~ ~ ~
I adore creating with gemstones, and infuse each piece I make with love and positivity. Creating is a sacred process to me - one that I pour my heart and soul into. Once completed, each piece is cleansed with Water, smudged with incense (Air), bathed in sunlight (Fire), and spends time on my altar to ground (Earth). It is then charged under the light of a Full Moon before being released into the world to find its new keeper.
~ ~ ~ ~ ~ ~ ~ ~ ~ ~ ~ ~ ~
To purchase this Ring, simply pop over to the listing in my Etsy Store here
Alternatively, you can email me - let me know your location (so I can work out postage costs if you are outside of Australia) and I will send you an invoice.
Please be sure to check out my FAQ page (see below) for further information about purchasing, my processes, and more...