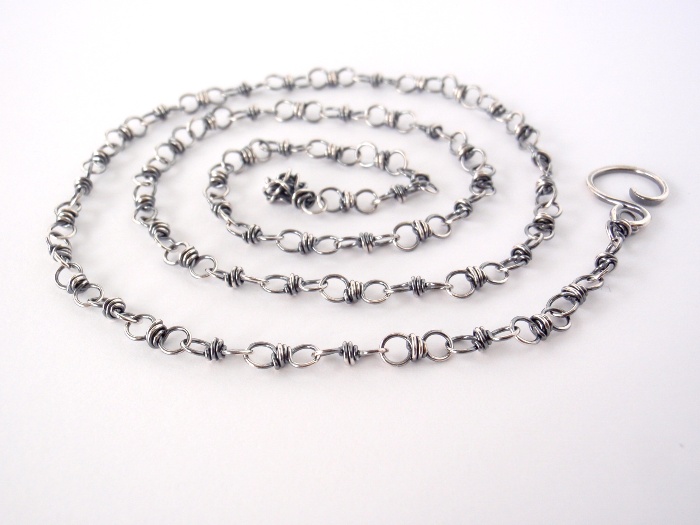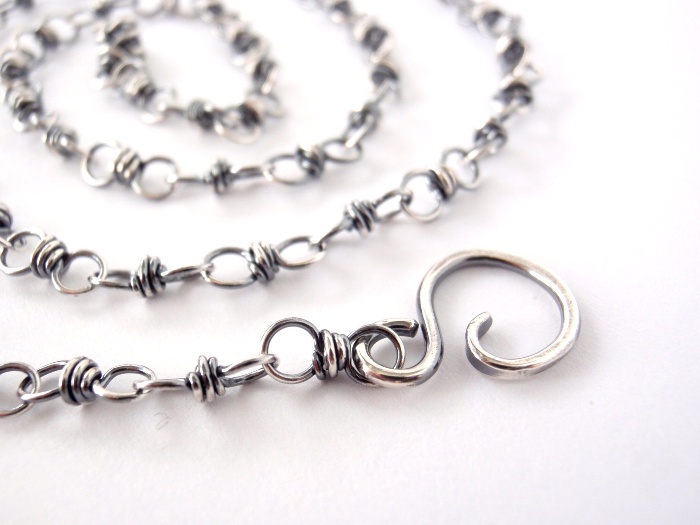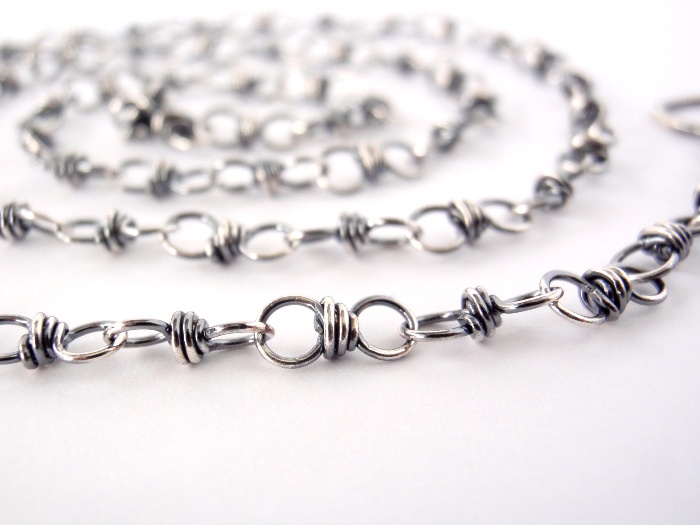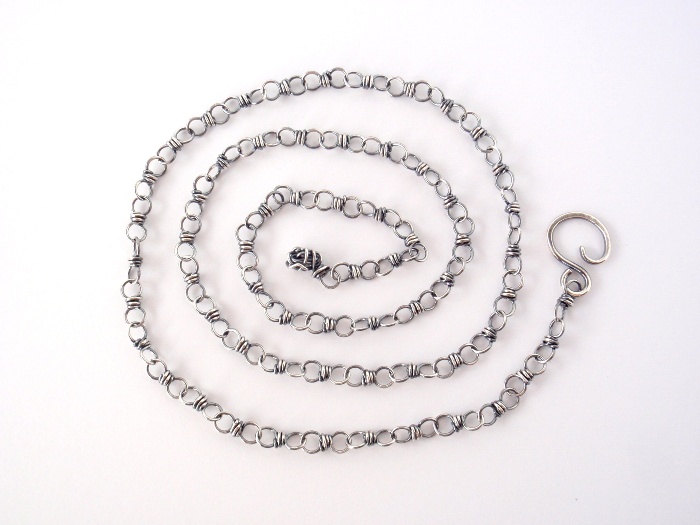 Antiqued Sterling Silver Handcrafted Chain
The perfect accompaniment to my Handcrafted Pendants, my chains are entirely handmade from eco-friendly recycled Sterling Silver wire. Each link has been individually hand-wound and looped into the next, so the chains are continuous and strong - there are no open rings at all. They feature a little wire ball drop at the end, and can be clasped at any link along their length, making them quite versatile. To finish, I oxidise and polish the silver so that they perfectly match my Antiqued Sterling Silver Handcrafted Pendants.
My hand-forged clasps are the result of much thought and testing - they can be a little tricky to attach, but this means that they are unlikely to come loose during wear. If you're having trouble fastening your clasp, I find standing in front of a mirror always helps!
The chain in the photos above is an example of the one you will receive. Each one is made entirely by hand and, as is part of the magic of handcrafted, there may be an ever-so-slight variation.
To purchase, simply pop over to my Etsy Store where you can find listings for my available chains here
Alternatively, you can email me - let me know your location (so I can work out postage costs if you are outside of Australia) and I will send you an invoice.
Please be sure to check out my FAQ page (see below) for further information about purchasing, my processes, and more...
Prices:
45cm chain - AU $72.00
50cm chain - AU $80.00
60cm chain - AU $96.00
70cm chain - AU $112.00

~ ~ ~ ~ ~ ~ ~ ~ ~ ~ ~ ~ ~
I adore creating with gemstones and metals, and infuse each piece I make with love and positivity. Creating is a sacred process to me - one that I pour my heart and soul into. Once completed, each piece is cleansed with Water, smudged with incense (Air), bathed in sunlight (Fire), and spends time on my altar to ground (Earth). It is then charged under the light of a Full Moon before being released into the world to find its new keeper.