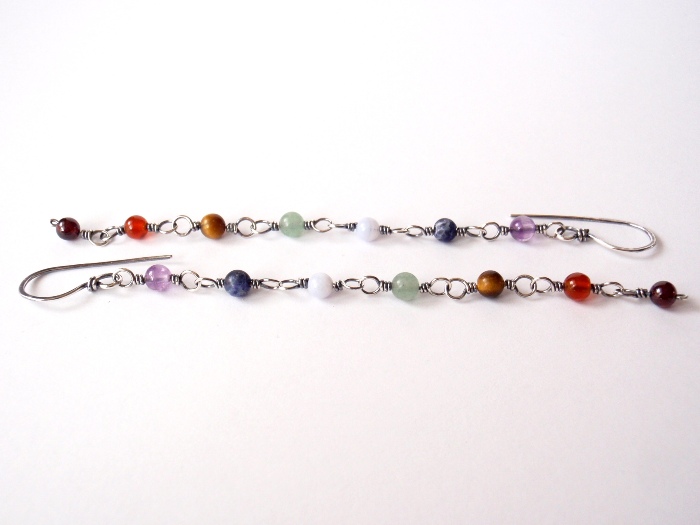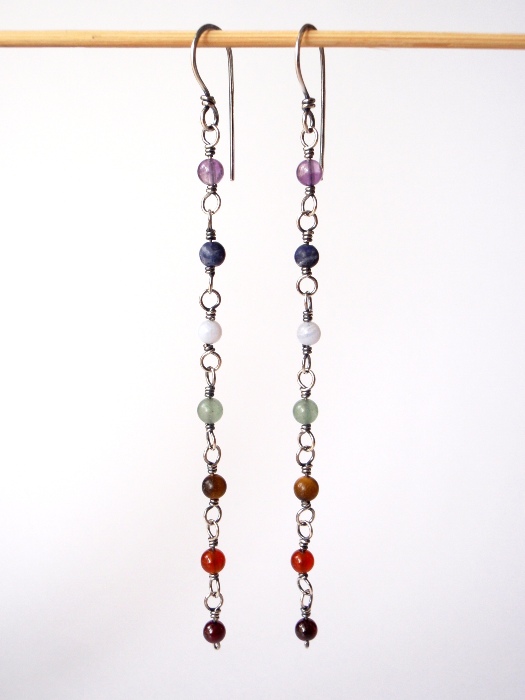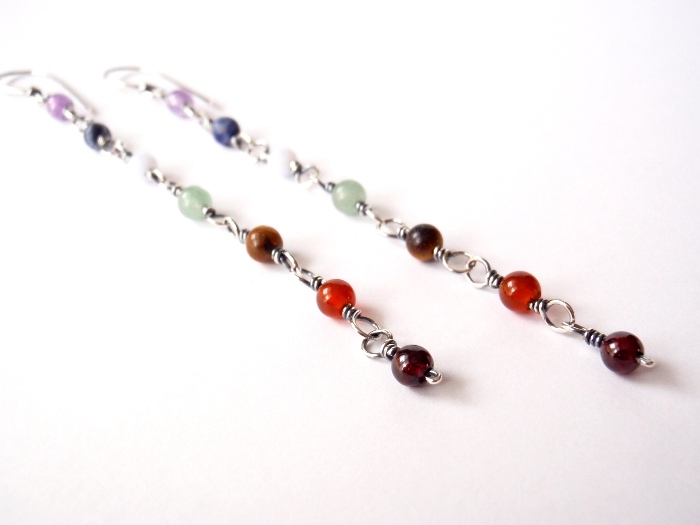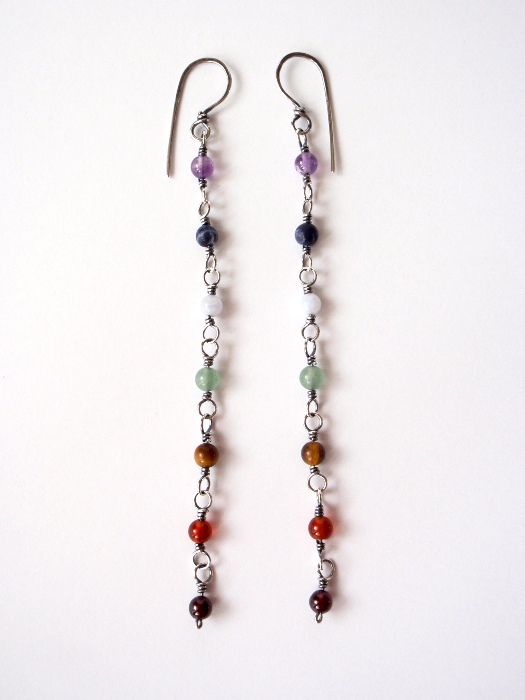 Item# EJS04051
Price AU $ Item SOLD can be made to order
Long Handcrafted Antiqued Sterling Silver Chakra Earrings
These earrings are so long they may even touch your shoulders - they are colourful and playful and a joy to wear! To create them, I have linked 4mm round Chakra gemstones with eco-friendly recycled Sterling Silver, and topped them with a handcrafted hook. I have then oxidised and polished the silver to give them a subtle antiqued finish.
They measure 11cm in length
I love making my Chakra Jewellery, and I love wearing it as well! It helps me to find balance when my day gets out of control. My Chakra Bracelet is one of the few pieces of jewellery that I wear every single day, and I just have to look down at my wrist to be reminded that there's always a rainbow somewhere! This is what keeps me making Chakra pieces - playing with rainbows always makes me happy, and the feedback I receive from others when they wear my Chakra Jewellery makes my heart sing!
The Chakra stones are:
| | |
| --- | --- |
| Amethyst - | Crown Chakra |
| Sodalite - | Third Eye Chakra |
| Blue Lace Agate - | Throat Chakra |
| Aventurine - | Heart Chakra |
| Tiger Eye - | Solar Plexus Chakra |
| Carnelian - | Sacral Chakra |
| Garnet - | Root Chakra |
---
[ Presented in an eco-friendly gift box - perfect to treat yourself or someone special ]
~ ~ ~ ~ ~ ~ ~ ~ ~ ~ ~ ~ ~
I adore creating with gemstones, and infuse each piece I make with love and positivity. Creating is a sacred process to me - one that I pour my heart and soul into. Once completed, each piece is cleansed with Water, smudged with incense (Air), bathed in sunlight (Fire), and spends time on my altar to ground (Earth). It is then charged under the light of a Full Moon before being released into the world to find its new keeper.
~ ~ ~ ~ ~ ~ ~ ~ ~ ~ ~ ~ ~
To purchase these Earrings, simply pop over to the listing in my Etsy Store here
Alternatively, you can email me - let me know your location (so I can work out postage costs if you are outside of Australia) and I will send you an invoice.
Please be sure to check out my FAQ page (see below) for further information about purchasing, my processes, and more...